About Our Tours
Knik Glacier Tours is proud to offer one of Alaska's most exciting day tours.
A combined overland safari in our big deuce-and-a-half monster trucks and a 4-mile jet boat adventure up the Knik River to the face of the Knik Glacier.
We guarantee you an unforgettable day and hopefully the highlight of your Alaskan adventure.
Knik Glacier 3-Hour Tour Package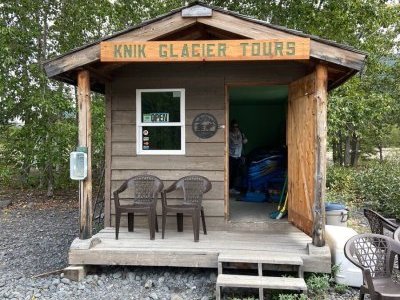 Start of Tour
Tours begin from our office at 26326 E. Buckshot Drive, Palmer, Alaska. Our office is located about 50 miles north of Anchorage.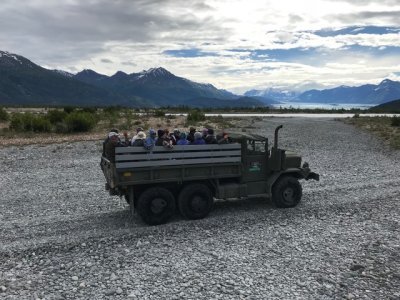 Overland Safari to River
Your adventure begins with a 30 minute overland safari in our big 6x6 trucks. Keep your camera's ready as moose and other wildlife sightings are common.
We travel 4 miles through the spectacular backcountry of Lake George National Natural landmark. We cross rivers, view salmon spawning areas and see endless fields of unique wildflowers.
Here you get your first views of the mighty Knik Glacier.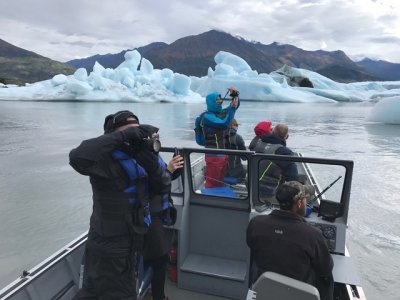 Boat Ride to Glacier
Now its time to jump in the boats and travel the final four miles. Boats are topless and you will feel the temperature drop "10 to 15 degree's" as we approach the glacier.
You will be awestruck by the sheer size of the Knik Glacier 6 miles across 28 miles long. Get ready to "OOOH! And "AAAH!" As your captain slowed the boat and you find yourself floating among thousands of blue icebergs that appear to be lit from within.
Wee'll cruise around the icebergs for some great photo opportunities.
Custom Tours
Call us direct for special requests. One hour is not enough time for many people. Maybe you'd like to spend the whole day or camp overnight or have a glacier-themed wedding.
Movies, documentaries, reality TV... we have the Alaska backdrop your looking for.
We would love to help you make this experience the highlight of your Alaskan adventure.
Prices
$125 each adult
$65 each child (12 years and under)
Dates and times
May 15th to June 15th with 10:00 am and 2:00 pm departures
June 15th to Aug 15th with 10:00 am, 12:00 noon, 2:00 pm, and 4:00 pm departures
Aug 15th to Sept 15th with 10:00 am and 2:00 pm departures
More information